When to Call a Chimney Sweep (Not Another Home Contractor)
It's easy for homeowners to assume that their general home service contractor is the best option to care for the chimney appliance and dryer vents. However, appliances such as fireplaces, stoves, boilers, and dryer vents are uniquely designed and have very specific codes that must be followed to maintain safety and efficiency.
When it comes to maintenance and repairs, you want a team that is as specialized in their education and work. Understand who to call when it comes to these 5 home appliances or common issues:
Installation and maintenance of fireplace/stove: Call a chimney sweep not a home service contractor
Instead of thinking of your fireplace or stove as a warm place to gather on a chilly evening, consider it as a ventilation system for smoke and deadly gases such as carbon monoxide to leave your home. The intricacies of installing and maintaining this system should be left to a professional who has studied the ins and outs of the parts of the system. Incorrect installations, cracks in your liner, improperly fitted caps and flashing, and other problems can lead to dangerous situations such as home fires, water leaks, and carbon monoxide leaks.
Roof leaks: Call a chimney sweep, not a roofer
Uh oh, you've noticed a leak in the walls or ceilings of your living room… what's the next step? While you may be tempted to call a roofer to check if you have a leak in the roof, you should actually call a chimney sweep. Why? One of the most vulnerable spots for leaks is where the chimney meets the roof, which is called the flashing. Bent, buckling, or broken flashing can make this area a prime spot for water from rain and melted ice and snow to pool on your roof and eventually leak down.
At Ashbusters, we can help fix these leaky chimney problems while preventing leaks and their damages.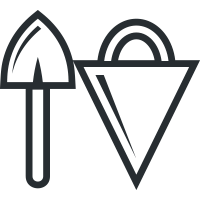 Fireplace masonry: Call a chimney sweep, not a home service contractor
There are certain mixes of mortar and bricks that are required to fix them right and we have the experience to do just that!
That's because we specialize in chimney work. We may get asked from time to time to do some other masonry, which we can, but we spend the vast majority of our time repairing and rebuilding chimneys that need our help. The last thing you want to do is hire someone that might not have the experience required for the job at hand and put your family at risk. After all, you are lighting a fire in the middle of your home!
Dryer vents: Call a chimney sweep, not a home service contractor
It may surprise you why you need to place cleaning your dryer vent very high on your annual to-do list; dryer vents are more of a fire risk than chimneys, and most families have dryers.
Did you know that many of the same tools used to sweep a chimney are also used to sweep or clean a dryer vent? Thats why it makes sense for us to cross train our techs. Our dryer vent technicians are certified by the CSIA (Chimney Safety Institute of America) because clogged dryer vents are a major hazard to homeowners, and we want to keep you safe.
Boiler/ Furnace Flue: Call a chimney sweep, not a home service contractor
You probably know that your HVAC/ home service contractor is who to call for boiler & furnace inspections, but did you know you should also talk to your chimney sweep about the boiler or furnace flue? HVAC contractors don't check the flue during the inspections but a blocked or clogged flue can cause leaks. Call a chimney sweep for a flue expert!
By hiring the wrong type of contractor, you continue to put your home at risks for fires and inefficient use of your appliance. On top of that, you may end up paying twice for work that could have been completed properly the first time.
There are many good chimney companies in the Charleston, SC area and we know you have a choice. We believe we are exceptional, and if you would give us the opportunity to prove it, we would greatly appreciate it. We are here to serve and to help you.
You can rest assured that you have done everything in your power to prevent fire and other dangers in your home. Book maintenance and repairs for your appliances and be confident that:
+ Your home value is not decreasing due to inefficient appliances
+ Your fireplace will work when you need it
+ Your dryer is not a hidden risk for fires
+ You can breathe easy knowing your home is free of smoke and carbon monoxide
​
Trust other local homeowners: 
4.9 Rating on Google with over 300 reviews

5-star rating on Facebook

4.8 rating on Porch based on 862 online reviews
"
Stacey Penix was excellent!!  Highly professional and extremely detail oriented.  Matched the mortar with paint, came back Saturday and Sunday to make sure it dried right after an unforecasted rain shower.  My chimney looks fantastic and every inch was done correctly.  Thank Stacey!"
Who Should You Call For Chimney Repairs?
We know what it feels like to not know who to trust for home services. When it comes to chimney or dryer vent work and maintenance, count on the company that has:
CSIA Certifications
Gone through an extensive background check
Participated in mandatory industry training to stay on top of the latest technical advances to maintain our reputation as a premium chimney sweep company.
Certifications from the Chimney Safety Institute of America
A Southern Chimney Association Board Member
A Cultured Stone Masonry Instructor – Southern Chimney Convention
Graduated from the Pennsylvania College Advanced Fireplace Construction School
Master Masons Chris Prior and Glenn Luse as instructors.
A HeatShield® – Cerfractory Flue Repair- Factory Training Instructor